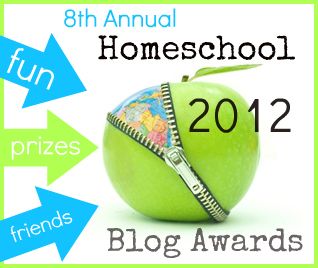 So, this was a total surprise!
Someone nominated me for the Homeschool Blog Awards in the "Best Encourager" category! I can't tell you how happy this makes me.
Not because of the possibility of a prize, but because I, at least in one of my reader's eyes, have accomplished the purpose of being a blessing and encourager through my blog.
We heard much at Allume about figuring out our purpose for writing. Who are we attempting to influence, speak to? Even if our purpose is to simply have a record of family life or homeschool activities, sticking to that purpose will bless our families far and near, and benefit others in similar circumstances.
When I gave The Army Chap's Wife the tagline of "Real snippets of the life, faith, and homeschool of an Army Chaplain's family" I did so with the intent of being honest and real about our lives, in order that these glimpses might encourage others. We are not an "ideal" family; our life is chaotic at times, unsettled, sinful, noisy. Our kids fight with each other, my husband and I snipe at each other and we are selfish (well, I should only speak for myself I guess!), we sometimes spend too much time on our computers or watching TV, and it's very rare that I fix homemade meals every night.
Why do I say all that? Because in the midst of all that "realness" we find grace, humor, and love. I want other women, other individuals, other families to know that in the middle of their whatever, they can find those things as well.
So thank you, whoever nominated me. It is confirmation that I might just be headed in the right direction.