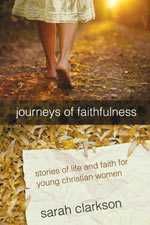 "It's not very often that a book like this can actually make me read more than I had planned to for the day."
This statement came from my teenager one morning after we had started Journeys of Faithfulness by Sarah Clarkson.
Sarah Clarkson challenges young women to reach higher and go deeper in their relationship with Jesus Christ by exploring the spiritual journeys of biblical women whose faith moves and inspires us even today… Through the journeys of Ruth, Esther, Mary, and others, learn how God can reach into the life of an ordinary girl who loves Him and bring His beauty and grace to bear in the world through her obedience. Recommended for ages 12 and up.
Each chapter in this book is divided into 4 main sections. The first is a fictionalized account of the Biblical woman's story. Clarkson stays true to the Biblical narrative, but adds in possible actions, emotions, and conversations that are interesting and valuable.
The second section is a devotional writing. Using stories and examples from her own life, Clarkson expresses Biblical truths in ways that are easy to understand and make applicable.
The third section is a Bible study, where verses are given to read and questions are asked about the verses–practical and personal questions.
The last section of each chapter is a set of journal pages, where there is opportunity to write out personal reflections from the reading and study.
We have used this book as a part of our school day, but it could be used in a variety of settings–youth groups, small groups, personal devotions, etc.
I cannot say enough good things about Sarah Clarkson's book! It holds my teenager's interest, the study questions are not too difficult but are still thought-provoking and real, and the journal pages have proven to be very valuable. I would heartily recommend Journeys of Faithfulness to any mom with a daughter 12 and older.
The book is published by Apologia, and costs $13.00. In my opinion, it is money well-spent.

If you would like to read what others are saying about Journeys of Faithfulness, please use the link below:

(The legal stuff: I received a free copy of Journeys of Faithfulness for the purpose of an honest review. All opinions are completely my own.)