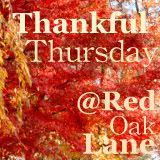 We had a great time in Florida for Christmas. When we got home, however, I knew that we would not be ready to start back to school this week. So we didn't.
We've been enjoying a relaxing week of doing mostly not much.
The girls have been reveling in a good friend's visit. Today they played in the snow, made chocolate chip cookies, and created home made facial masks.
Once again, I have much to be thankful for this week. Just a few here:
The snowstorm that dumped at least half a foot of snow–I love it!
Spending Christmas gift cards
Extremely helpful twitter friends
Late night movies with my husband
The announcement from a friend about a new baby on the way!
The opportunity to be involved in a new ministry blog
Beginnings
The legacy that my Uncle Logan left behind
I hope you can find things, large and small, to be thankful for today!