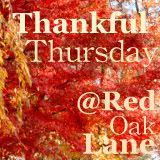 These weeks seem to be flying by. It's hard to believe that it's already been a month since Christmas. My favorite season of the year seems to be slipping away too fast!
I have no idea why I felt that was important to say, but there it is.
Anyway, it's Thursday once again, time set apart to be deliberate in acknowledging how greatly I've been blessed. This week, I am thankful for:
A date night with my husband–good food, even better conversation
An opportunity to use my proofreading skills
A fun evening spent with a friend of ours (one we haven't seen in a while)
The privilege of praying for, and with, friends
Decisions that require relying on the Lord for direction
The fun that the girls and I had watching this guy contort himself around to get food out of the bird feeder (sorry it's hard to see him, but it was snowing super hard that day!)
A friend who loves me even when my strange fears and idiosyncrasies show their face
I hope you can find things, large and small, to be thankful for today!