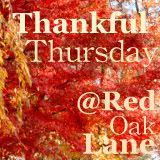 Some days, thankful words flow easily.
But not always is it that way.
This week has been a tired and anxious kind of week, and I've struggled. But, searching for the good is a discipline that helps lift me beyond myself.
Today, I am grateful for
Friends who prayed when I cried, "Help!"
A successful tae kwon do testing for my youngest (she's moving towards 2nd degree black belt)
Going with my oldest to get her ears pierced!
A short but sweet visit with my aunt
A husband who just stands still and hugs me when nothing else helps
Simply Salted microwave popcorn
The boxes, bags, and string that make cheap cat toys
Soft, comfy sweats
Protection from the destructive wind (not even a tumbling trampoline!)
Poignant memories from pictures taken many years ago
I hope you can find things, large and small, to be thankful for today.