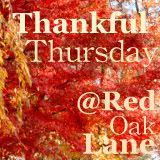 I'm really late with this today, but hey–at least it's still Thursday, right? I have no idea where the rest of this week went! If you find it, will you send it to me?
Have I told you how much I enjoy linking up at Red Oak Lane for these posts? Reading others' Thankful posts is inspiring and just plain fun! If you haven't visited Theresa before, I would highly encourage it. (And today's a great day to do it because of a special birthday–hint, hint.)
This week, I am especially thankful for
The very unique retreat my husband is on this weekend
Reading through Nehemiah–what an example of a motivational leader!
Baby carrots and almonds for lunch
A cleaned out garage–thanks to my hard-working husband
The Yellow-Ribbon pre-deployment event we got to attend, which included lodging and a swimming pool
Challenges that stretch me
A Kitten that entertains
Conversations around the dinner table that dissolve into silliness and laughter
A chance to talk to my dad on the phone
Reading Book 3 of the Wingfeather Saga out loud to my girls
Well-established early morning routine
I hope you can find things, large and small, to be thankful for today.