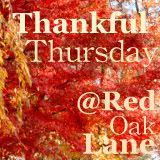 Have you ever had a time when you thought you understood "the plan" and were working "the plan" and then "the plan" completely changed?
I'm curious to know how you coped with that.
This week I am thankful for a God who knows "the plan" even when we don't. A God who can see beyond right now. A God who isn't surprised by circumstances. A God who knows exactly what we need, exactly when we need it.
I am also thankful this week for:
The fact that tomorrow night we get to watch our oldest perform in The Secret Garden
The fact that today was the last day of "normal" studies for this week (Theater and First Aid class tomorrow, co-op on Friday)
This stylish darlin'
The challenge from one of my girls to be more creative with dinner meals
This absolutely delightful series (this is book 2)
How excited my kids are that it's warmer outside (even though personally, I'm mourning the loss of winter!)
Almost 80 in March in Indiana is just plain weird!
A husband who will stop what he is doing to talk with a lonely neighbor
A friend who says, "I know you've been wanting to walk–I'll come over and walk with you!"
And I can't leave without another kitty picture. Abby has discovered the bathtub! Fun times.
I hope you can find things, large and small, to be thankful for today.