I love hymns. I grew up singing and playing hymns on the piano. I still enjoy singing them. There is great depth and teaching in hymns.
So, when I was offered the opportunity to read and review Mr. Pipes and the British Hymn Makers, I gladly took it!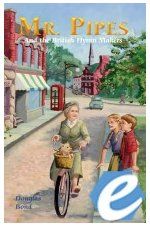 Mr. Pipes is published through Christian Liberty whose goal it is to:
…support parents in fulfilling their God-given responsibility to provide a Christ-centered education for their children.  From a single book to a complete curriculum, Christian Liberty strives to provide families a complete spectrum of products and services necessary to enjoy a high quality, Christ-centered home school experience.
Mr. Pipes and the British Hymn Makers is the first eBook in a series of 4, written by English teacher Douglas Bond. The book is written for a suggested reading level audience of 7th-10th grade, but I thoroughly enjoyed it, and I think it could be read, understood, and enjoyed by both younger and older children.
The story centers around two teens who, while staying in a small English village for the summer, meet and befriend an older gentleman known as Mr. Pipes. Through the course of their friendship and adventures, Mr. Pipes tells Annie and Drew stories about the lives and writings of such hymn composers as Thomas Ken, Isaac Watts, Charles Wesley, and John Newton.
The stories of the hymn writers are seamlessly and cleverly woven into the fabric of the main story of Annie and Drew spending time with Mr. Pipes. There is so much history learned in a fun story format! As an added bonus, there are beautiful black and white pencil drawings throughout the book.
One of the things I really liked about the story is that as Annie and Drew learn about the passion and commitment of the hymn writers, they are challenged in their own thinking and spiritual lives. As I read through this book, I found myself thinking that my kids would probably not totally appreciate some of the antiquated language that is used, but if I could get them past that, they would enjoy the story.
I am the only one who has read Mr. Pipes so far, but as our regular curriculum takes us into church, as well as world history, I believe I will have both my 6th grader and my 9th grader read the book when we get to the particular time period that fits (1400's to 1800's).
Mr. Pipes and the British Hymn Makers is available as a downloadable pdf file from the Christian Liberty website for $8.79. Personally, I think the delightful story combined with history is well worth the cost!
You can read what others thought of the book by using the link below.

(The legal stuff:  I was given a free copy of Mr. Pipes for the purposes of a review. All opinions are my own.)